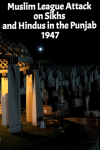 The book consists of harrowing stories of the Partition of India between the new nations of India and Pakistan. The partition led to one of the greatest population movements in the 20th century, as Muslims in what would become India, and Hindus and Sikhs in what would become Pakistan, fled across the new borders.
This book details the sufferings of the Hindus and Sikhs who fled their homes in the western Punjab, the North-West Frontier Province, Sindh and parts of Kashmir. An appendix contains numerous press and eyewitness accounts of atrocities committed against the refugees during the Partition.
The book takes a position against Pakistan and the Muslim League, which it accuses of planning the massacres.
READ ON NEW WEBSITE